If you want to feel great about yourself, don't try learn Polish.
Seriously, I can think of no more effective way to feel incompetent, insufficient, and all-around dumb… except maybe by taking Calc II as a history major.
In case you aren't aware, I started learning Polish in June 2013, when by a series of seemingly random events I ended up at the University of Pittsburgh's Summer Language Institute. When I first started, I didn't even know what pierogi or pączki were; I just politely nodded and smiled when people talked about them (though by now I've eaten more pierogi than I could possibly count, haha). That first summer, I spent 10 weeks in intensive language courses, with the first 6 in Pittsburgh and the last 4 in Kraków. I continued last summer with another 6 weeks in Kraków, and this year, thanks to the kindness of the University of Pittsburgh Summer Language Institute staff, I'm finishing up another 6-week course in Kraków before my research year in Berlin.
If you've ever tried learning a foreign language, you know that the acquisition process comes with ups and downs. But when you're riding one of the "ups", you feel like you can conquer the world; nothing is too difficult for you. You can have conversations with native speakers (who aren't your teachers), you can befriend the local grocery store clerk, ask for a half kilo of mushrooms at your neighborhood produce market, and even correctly answer that guy on the street when he asks you what time it is. When these moments happen, you feel amazing, great, fantastic, like you can conquer the world. And when you have those moments while learning Polish, you find yourself this close to buying one of these t-shirts:
But the Polish-gods don't like people to be happy, at least not for very long. And sure enough, as soon as I was finally feeling confident about my Polish-speaking skills, I encountered my worst language-learning nightmare:
NUMBERS.
Yes, I know what you are thinking. Counting is one of the most basic parts of every language; everyone who's ever ordered a taco knows how to count to 10. And I did learn to count to 10 way back in my first week at Pittsburgh. But that's not how Polish numbers work. In fact, they very rarely look like that, unless you're counting to three before taking a picture or playing hide-and-go-seek.
You see, the numbers are easy if all you're doing is counting or basic math. But heaven help you if you want to actually use them for anything else. Want to buy two bananas to share with your two sisters? You're going to need two different words for "2". Hoping to find 2 chairs so you can say that you and your friend are sitting on these 2 chairs? Again, you're going to need two different words for "2" (and these will be different from the two "2's" you already used in the first example!) That's right; Polish has something like 18 different ways to decline their numbers! That means there are approximately 18 different ways to say "2", depending on the gender, number, and case of the noun you're describing!
But the number insanity doesn't stop there. Because as if the above examples weren't terrible enough, the Polish language has a special set of numbers that are only used when describing groups of men and women (but you have to KNOW that there are men AND women in the group; you can't just assume), groups of children and/or baby animals, and permanently plural nouns like scissors, glasses, and doors. Just to recap, that's—
Special numbers for CHILDREN, BABY ANIMALS, SCISSORS, AND DOORS.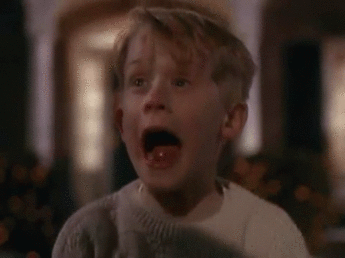 The other day a friend told me that a Polish language textbook began with the following sentence: "the Polish number system is so complex that no one has ever successfully explained it fully."
Quit while you're ahead? More like, "quit before you even start." Which is what this particular friend did.
One thing is for certain, Polish is not for the faint of heart. In fact, if I had known exactly how difficult it would be, I'm not sure I would have started. Some days I find myself wishing I had opted for an "easy" language like Italian or French. And yet for some reason—maybe I like challenges, something about communism intrigued me, I like to sound cooler than I am?—I decided to go with Polish. Deep down, I knew that if Polish were easier, it wouldn't be worth it.
The other day as I was complaining about Polish numbers (yet again), I realized something: I use the same exact language to describe my walk with Jesus. Christianity, like Polish, is not for the faint of heart. If I had known how difficult, confusing, and frustrating following Jesus could be, I may have thought twice about it. Sanctification (the process of being made more like Jesus) can be challenging and painful, and oftentimes I feel like I take one step forward for every two steps back. Right when I feel like I've finally mastered a spiritual concept, I then find out that there is so much I don't know or understand. Or to continue with the Polish metaphor, I then discover whole slews of scissors and doors and baby bunnies waiting to be numbered. And that can feel daunting and discouraging.
If I'm honest, sometimes I get really frustrated with this life of discipleship. Sometimes the criticism and correction—gentle, loving, and well-intended though I know it is—feels like a bunch of red marks on my grammar homework. But then I have to remember that a) Jesus never said that following Him would be easy (kind of like the "spoiler alert" at the beginning of my friend's grammar textbook), and even more importantly b) the most worthwhile things in life tend to be difficult. The challenge creates the beauty. What's true of Polish is even more so for our walk with Jesus: not easy, but therefore worthwhile.
Well, that's all I have time for today. Now I need to get back to my homework. Before I start, though, has anyone seen my scissors? I had two pairs, but one seems to have disappeared… 😉